Our 2023 Annual Meeting will be held on Thursday, November 2 at the Aaronsburg Civic Club.
The meeting begins at 6:30pm with board member elections, and features a dessert potluck.
This meeting is open to the public, all are welcome!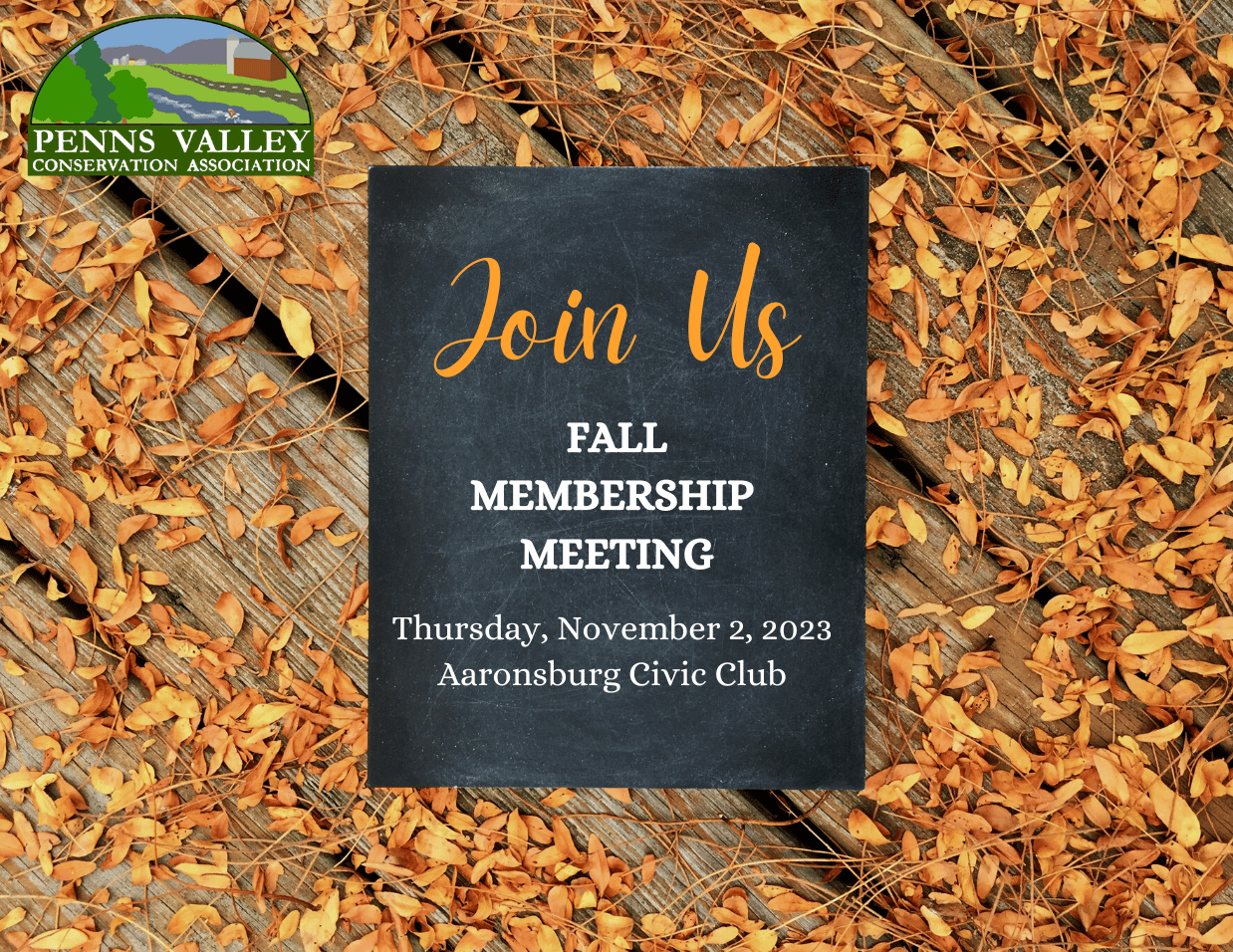 * Special guest speaker Julian Avery presents:
"All About Turtles!" Pennsylvania turtle ecology and conservation
Learn to identify native turtle species, and create habitat in your backyard.
* Get a sneak peek into our exciting interactive map project. In partnership with the Pennsylvania Environmental Council (PEC).

* Highlights from our Annual Report.


Andrea Ferich is a forestry consultant and owner of Ironwood Forestry, focusing on the implementation of agroforestry practices with private landowners. She is current President of the Pennsylvania Native Plant Society, and was previously the Executive Director for the Penns Valley Conservation Association.
Andrea is passionate about the economic opportunities in restoration through agroforestry, collaboration, and innovation with the Keystone Tree Crops Cooperative. Her farm is located along Elk Creek in Coburn, where she enjoys bird-watching, growing plants, and swimming.
Vocationally, Art has been the proprietor of Fruittown Land Stewardship Services since 2008, providing vegetation management in forest and natural areas settings, and plant community restoration through planning, training, and operations. He retired from the Penn State Department of Plant Science in 2021 after 35 years of service addressing vegetation management including invasive species and habitat management with the PA State Park system, riparian reforestation, and rights-of-ways.
He has participated in PVCA activities for about 13 years primarily through the Watershed Committee, and occasional water rocket wrangling at CrickFest, and became a Penn State Master Watershed Steward in 2022. Other community activities include coaching youth soccer and Scouting.
Art is a member of the state-wide Riparian Buffer and Lawn Conversion technical advisory committees, and has working relationships with Clearwater Conservancy, Chesapeake Conservancy, Chesapeake Bay Foundation, Alliance for the Chesapeake Bay, and the Centre and Mifflin County Conservation Districts.
Art lives in Colyer within sight of Boal Gap Run with wife Stephanie, and the youngest two of their six children.
Bill "Butch" Rittelmann and his wife Debra moved from their hometown of Butler, PA to Penns Valley in 2015 where they live in a solar-powered home. He is an avid cyclist and woodworker and enjoys exploring the mountains and streams of central PA by gravel bike or kayak. He also enjoys birding with his wife and together they have participated in the Shaver's Creek Kestrel Nest Box Survey since 2018. They have two adult daughters; Paige lives in Tampa, FL and Fontaine lives in Portland, OR.
Bill earned a BA in Architectural Engineering from PSU in 1986 before going to work for his father's architectural firm in Butler, PA. His focus in energy conservation and renewable energy led him into a position at IBACOS in Pittsburgh, PA as a consultant to the US D.O.E. Building America program. He currently works for PSU OPP as a Facilities Engineer.