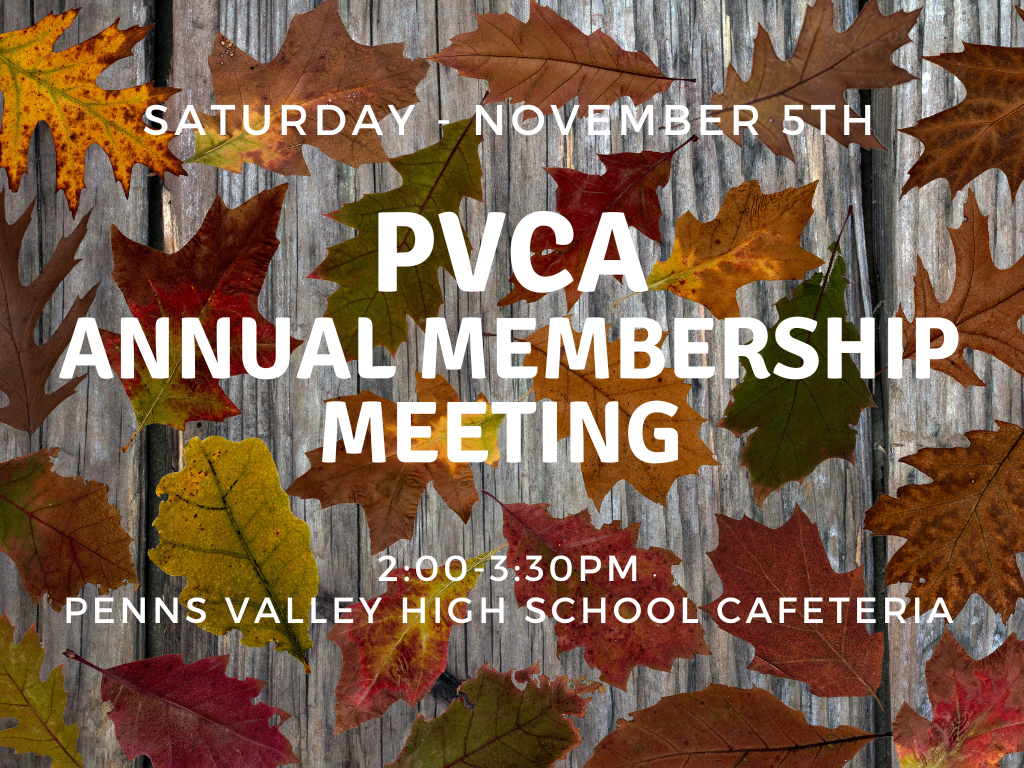 Thank You to all who attended 
PVCA's
Annual Membership Meeting!
Saturday, November 5, 2022, 2-3:30 PM
Penns Valley High School Cafeteria
At the meeting, we heard:
Annual Report from Vice-President Molly Buchanan

Watershed survey with Brian Auman

Drawing for the Get Away raffle prizes

First Place – Theresa ShayBrush Mountain Lodge for a half day rental
Second Place – Amy and Mary SeatonWeek at a cottage in Maine
Third Place – Cathy BrysonCoburn on the Creek
Fourth Place – Erica and Jim ThummaWoodside Cabin

Sincerest thanks to our Get Away donors:

Kat Alden and Bill Torretti
Eric Campbell and Mike Starks
Michah K. and Nancy Cleaver
Marie and Craig Shroyer

Elected a new PVCA Board member (Nell Hanssen's bio below) and re-elected Pat Leary (bio also below)

Listened to an exciting presentation by Erin Letavic, Professional Engineer and passionate watershed advocate, about the Centre County Watershed Implementation Plan
Nell Hanssen bio –
Greetings to friends and neighbors in the Penns Creek Watershed!  I appreciate the opportunity to serve on the PVCA board, and would like to provide a brief biography.
I moved to Penns Valley in 2001 and have been involved with the Penns Valley Conservation Association in some manner ever since.
As a volunteer, I have been involved with PVCA's annual schedule of events, including Crickfest, the Stream Bank Clean-up, Riversongs, and various educational workshops and meetings held over the years.  For a few years, I edited the PVCA newsletter and co-chaired the Community Outreach Committee.
In 2002, I was hired for a grant-funded position creating the Waterways and Wildlife Manual, which is an informational manual and protocol for assessing wildlife habitat, particularly within stream buffer areas.  This project included research, writing, and publishing the manual, as well as creating an accompanying curriculum for elementary, middle, and high schools.   The publication was mailed to every Conservation District in Pennsylvania, and also promoted to school districts and towns via mailings and presentations.
With funding remaining in that same grant, I coordinated tree plantings and invasive species removals with area landowners of stream-front properties.
A number of years later, I was hired by PVCA again to write several grants to fund the Environmental Education Program, securing a few years of funding for the program.
In addition to my past work with PVCA, I am also an organic farm inspector, conducting annual inspections of certified organic crop and livestock farms in Pennsylvania.  I also work for Demeter USA, an organization that oversees certification of Biodynamic farms and processors.  Biodynamic certification looks at the farm as a holistic organism, focusing particularly on creating a functioning and healthy ecosystem on the land, from the soil up.
I currently live in Aaronsburg, but my fiancé Chuck Kurtz and I will soon be moving into our new homestead in Spring Mills, where, with the help of grants and local foresters, we have already planted hundreds of trees along our small tributary, and hope to continue creating native habitat for wildlife on the property.
Pat Leary bio –
Pat is a longtime resident of Penns Valley and a community advocate. Well known for his jokes and quips, Pat's attitude is "Fix the problems without the politics."
While serving as a Gregg Township supervisor, he coordinated the transformation of the abandoned Old Gregg School building
into a community center and youth activity hub.
With Julie Mason, Pat has fostered hundreds of pets for rescue organizations.
A perennial PVCA volunteer, Pat was appointed a director in 2020 and served as vice-president and president during difficult COVID times.
Many, many thanks to both Nell and Pat for your continued efforts, in championing PVCA's mission throughout Penns Valley!!